Urban Development: From Reconstruction to New Construction…
Development and/or urban redevelopment is a win-win for Minneapolis-St. Paul residents and businesses.
Our passion for development stems from the history and character of the Minneapolis-St. Paul area. We look forward to the challenge of repositioning existing properties for new uses. There is an immediate and lasting impact on the local community when new businesses and residents are attracted to parts of the city that are in transition. Changing areas need partners with vision and expertise to step in and work with the city to complete these development projects with lasting and positive impact.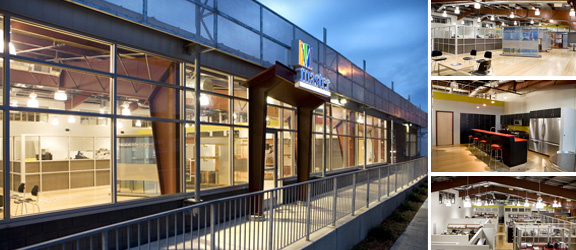 Project: The Alley
Vision: The goal was to transform a boring metal building into a contemporary commercial property. Looking at its edgy exterior of curtain wall glass and brick and concrete block, few would guess that The Alley began life as a Butler Metal Building or that it once housed a bowling alley. Master transformed a boarded and unremarkable structure into a cool, 18,000 sq. ft. commercial center. The Alley features 15' – 22' ceilings with clear span spaces, large windows, skylights, and Terrazzo floors. We also reused the original wooden bowling lanes as new office flooring. The Alley is home to offices and high-tech companies.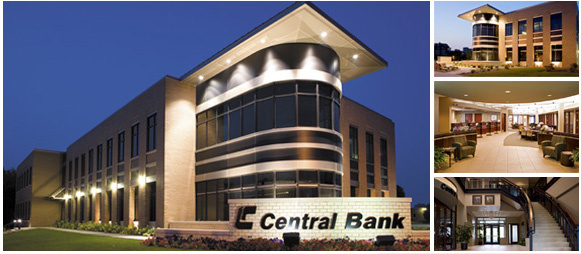 Project: Central Bank
Vision: Central Bank wanted to transition from their previous location along Interstate 394 to a more neighborhood location within the City of Golden Valley. Secondly, they required a successful balance between meeting the current needs and planning a space flexible enough in terms of size and style to accommodate the bank's future expansion. The logical place was along Winnetka Avenue but the challenge was finding an acceptable, available site. After searching for over six months, Master identified a prime site on the corner of Winnetka Avenue North and 10th Street – the northern gateway to Golden Valley's downtown.
In addition to a careful and thorough design process, Master took great efforts to ensure that the construction implementation fully achieved the design vision. Master selected only highly experienced subcontractors who had a firm commitment to achieving the intent of a Class A office building.
Beginning with the demolition of the existing office/warehouse structures on the site in early summer, construction was completed five months later and results were delivered to the client on time and within budget.
Property Type: Office
Size: 18,000 sq. ft.

Master Services Used:
Owner's Representation - Real Estate
Civil Engineering

Site Work Construction
Building Construction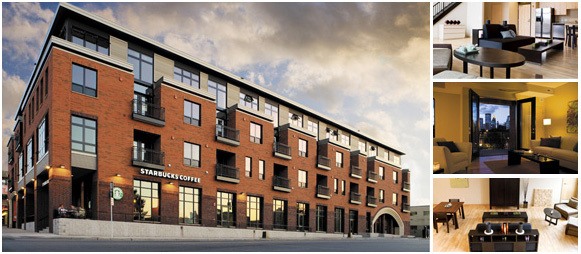 Project: Greenleaf Lofts
Vision: This four-story building was not an easy project but resulted in an extraordinary development for the Whittier neighborhood of Minneapolis.
Master identified the site as an opportunity to redevelop an underutilized corner of South Minneapolis. But as with many re-adaptive uses, both buildings and property in the urban core, the site was wrought with problems. It posed challenges, from pollution and contamination to a lawsuit filed against the city over the sale of the land.
Through all this adversity, Master preserved and partnered closely with city and neighborhood leaders to find solutions and remediate the site.
Now held up as an example of exceptional design and solid construction, other developers are emulating Greenleaf Lofts.
Greenleaf Lofts retail is anchored by Starbucks Coffee, and residential condominium units enjoy amazing views of downtown Minneapolis.
Size:
7,200 sq. ft. of Retail
27 Units of Condominiums
Master Services Used:
Site Selection - Real Estate
Owner's Representation - Real Estate

Civil Engineering
Site Work Construction

Building Construction
Leasing - Real Estate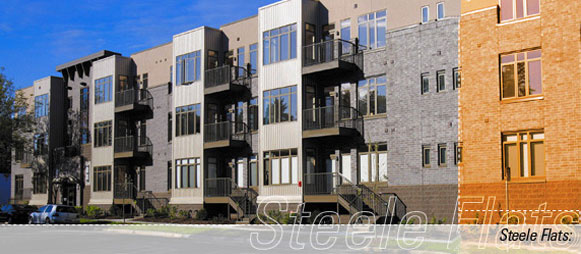 Project: Steele Flats
Was: This site was polluted by a former gas station. More recently, it was used as a hearse repair business and parking lot.
Now: Steele Flats is 32 units of ownership condominiums in an area of South Minneapolis that has not seen new housing construction in a number of years. It is a perfect complement to the successes at 48th and Chicago.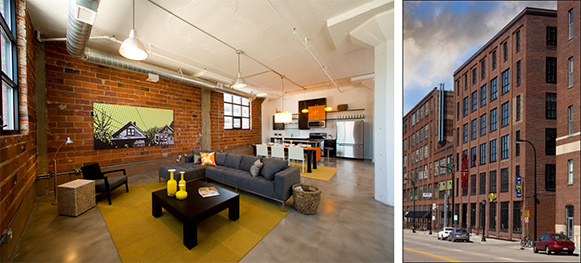 Project: SOHO Lofts
Was: A former warehouse that stood 60% vacant and was deteriorating rapidly.
Now: Creative office condominiums and live/work spaces. The 100,000 sq. ft. SOHO project provides affordable spaces for many of the small businesses and artists forced out of the warehouse district by condo conversions.
To see more of the projects we've completed, please
download our brochure
and see what the Master can do for you!